TCHER Online is a dynamic, virtual-only centre for education and enrichment.
Catered to students from Primary 4 to Secondary 4, TCHER's MOE-experienced educators are at the top of their game in English, Maths, Science and Chinese.
They are driven by a passion for teaching and have a track record of inspiring self-directed and independent learning in their students.
Equipping youths with exam techniques, subject-relevant skills and mental models, TCHER Online nurtures students to perform at their best.
FREEMIUM ACCOUNT
Get access to
100+ Video Lessons for P4-6 English, Mathematics, Science & Chinese
Cutting-edge video platform for self-directed learning
Lessons taught by highly competent MOE-trained teachers and ex-PSLE markers
7 days trial live-streamed lessons for all subjects
Lessons video playback for one year
Sign up for 7 days
FREE Live Classes
We Are The Classroom of The Future
Our Pedagogy involves:
Embracing Children's Online Savviness
We nurture a love for learning by meeting children where they are – tapping on their interests and familiarity with technology.
Effective Classroom Interaction and Management
We use powerful teaching and communication tools to create safe learning spaces where group participation is key.
A Curriculum That Complements School Work
We provide access to former MOE educators from the comfort of your home, and at a learning pace that works best for your child.
Partnering with Parents For Offline Learning
We keep parents updated on their child's current topics and challenges, and suggest home activities that can deepen their learning.
International Exposure To Propel Learning
We facilitate cross-border learning that is open to our students, and foster cross-cultural interactions.
How does TCHER Online conduct their online lessons?
LECTURES
Concept-focused teaching to build a strong foundation
Pre-lesson tasks assigned for students to gauge understanding
Q&A sessions during which students are given virtual trophies for the right answers and active participation
Learning Report for parents after the lesson ends
Lesson Playback for revision (stored up to a year)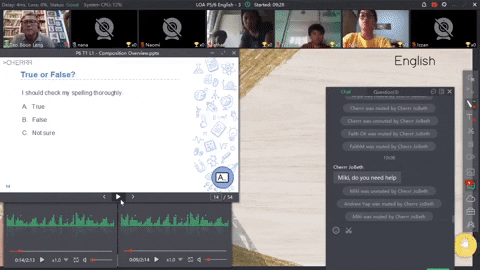 Quizzes to ensure students understand concepts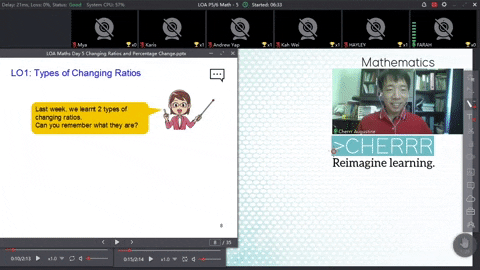 Trophy system to encourage students to participate
TUTORIALS
(Premium & Premium+ Plans Only)
Hands-on tutorials designed to track and measure subject understanding
Worksheet assessment with our expert, MOE-experienced teachers
In-depth reviews and reflection to facilitate deeper learning
Lessons are recorded and playback will be stored for up to 1 year
Small tutorial groups for focused learning
Mr Andrew Kang is a former Ministry of Education (MOE) Vice-Principal and National Institute of Education (NIE) International External Consultant. with 18 years of teaching, management and leadership experience.
Andrew serves as a member of the Board of Advisors of SIMCC and STS. Singapore International Mastery Contests Centre (SIMCC) is one of the largest math contests organizers in Singapore and Asia.
Andrew Kang
CEO
Mrs Jenny Yeo is a veteran educator and a well-known and respected ex-principal of Kheng Cheng School, Radin Mas Primary School (an IT Demonstration School) and South View Primary School in Singapore.
South View Primary School was awarded the SQC (Singapore Quality Class & Best Practices for Teaching & Learning) under her leadership.

Jenny Yeo
Academic Consultant & Member, Board of Advisors
TCHER Online was founded to provide students of all abilities and social economic status with credible and high-value learning experiences.
We aim to develop every child's academic potential and joy for learning in our virtual classrooms.
– Andrew Kang, CEO
JoBeth Williams
Head of English
Primary 5 & 6 English Teacher
Dicky Lim
Head of Mathematics
Primary 5 & 6 Mathematics Teacher
Sherwin Loo
Head of Science
Primary 6 Science Teacher
Lillian Kang
Primary 4 & 5
Mathematics and Science Teacher
Teo Boon Leng
Primary 6
Secondary & Post-Secondary Education Institutions
English Teacher
May Lim
Primary 5 & 6
Mathematics and Science Teacher
Augustine Lim
Primary 5 & 6
Mathematics Teacher
Koh Cher Hern
Primary 5
Mathematics Teacher
Rajinder Kaur
Primary 4
English Teacher
Teacher JoBeth, was very engaging and entertaining during English lessons! Her explanations were easy and understandable for me, and some of the slides included jokes, which made me further remember the things the teacher has taught!
– Clarice Liow (Student), Primary 6
I enjoyed Cher Sherwin's Science class as he will patiently explain the OE answers such that I can understand them easily. I am so happy that my Science grade has improved from a C to an A for PSLE.
– Natalie Chong (Student), Primary 6
My son Bhaveash managed to get a score of 90+ for his science test after attending TCHER Online for 3 months.
Mr Sherwin can teach with flexibility and explain the subject using the right approach.
– Kalai Vani Palaniandy (Parent)
After attending TCHER Online lessons, Gwen made a big jump and improved her SA1 score to 72%. I think she went from bottom 5 to top 5 in class. Highest in class was 80%. The average score was below 60%.
– Sharon Lim (Parent)
Izaac was in the online classes conducted by Cher Sherwin and Cher JoBeth in preparation for PSLE Science and PSLE English respectively this year.
We've definitely noticed the improvements in Izaac's grades and behaviour this year.
PSLE result: 3As and 1B
– Hazel Kon (Parent)